Meet Fernanda Neiva, our Production & Quality Improvement Engineer. Fernanda's role within BFM® Global is to help us drive continuous improvement in all stages of our manufacturing process.
Originally from Brazil, Fernanda's varied engineering background includes production and process-improvement roles in the dairy, frequency control and aviation industries.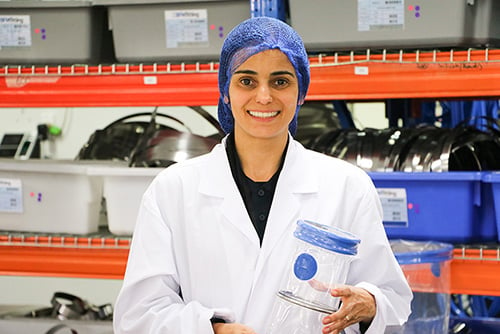 She provides valuable analysis, technical input and support to our production and quality assurance teams.
"I'm a very focused and analytical person, which helps in any engineering role. I'm always thinking about how and where to improve to get better results, both in terms of the end-product and the efficiency of making it."
A key part of Fernanda's role with BFM® is to optimise the overall sustainability of our production processes, with a particular focus on waste reduction.
"Working with steel and plastics to manufacture our products naturally involves a certain percentage of off-cuts and rejects that come from our strict quality control processes," said Fernanda.
"We've worked hard in the past few years to improve our cutting and production practices to minimise wasted product. Any waste we do have is recycled wherever possible."
The design of the BFM® fitting system has been refined over time to enable many companies to improve production efficiency and reduce waste. It's a product benefit that is a big factor for many end-users.
"The snap-fit seal of the BFM® connectors is so good that customers no longer experience product leakage and waste at machinery transitions," said Fernanda.
The drastic reduction in downtime by no longer requiring clean-ups for product spills is a regular comment fed-back from customers.
"The BFM® fitting system keeps their product inside their process where it should be."
As an engineer, Fernanda has been impressed with the longevity and durability of the BFM® fitting flexible connectors versus some she's seen in factories in the past.
"Flexible connectors in bulk processing plants are often viewed as an equipment 'consumable' that gets replaced frequently. I was amazed when I joined the company to learn that there is a customer who used the same BFM® fitting connector in their process that operated 16 hours per day, 7 days per week for over 9 years!" said Fernanda.
"That's a testament to both the sustainable design of the product and how much care and attention to product quality the team here at BFM® take."