With health and safety such a high priority for businesses today, every aspect of your factory's equipment and processes needs to be considered in terms of its safety risk. Although flexible connections may not be the first thing that comes to mind, they are in fact a potentially high-risk component in any dry-bulk processing line.


Why are some flexible connectors a safety risk?
In the first instance, the simple act of installing or removing a flexible connector fastened with old-style hose clamps can be difficult, often requiring the use of a screwdriver in awkward positions which is a recipe for potential injury to the installer's hands.
If the connector is removed at any time during operation, there is also a risk that staff could put their hands inside the process equipment and be exposed to dangerous parts of your machinery, like rotary valves or rotating knives.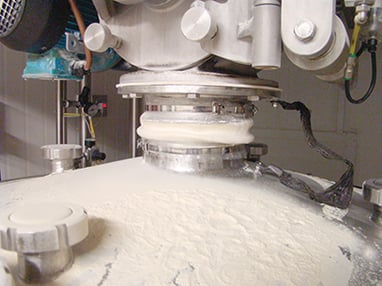 Another major safety concern is a leaking connector. Not only does a leaking connector present an environmental health risk to your staff, but it is also a serious safety threat to your entire factory. Leaking powders can lead to dust build-up on surfaces, creating the potential for possibly devastating secondary explosions.
Even if your process equipment has built-in explosion-relief vents, the force of an explosion occurring inside your machinery can blow-out most flexible connectors, releasing any flames and hot gases into the factory itself, adding to the secondary explosion risk.
The solution to these very real risks lies in choosing the right flexible connector for your process lines.
The BFM® fitting flexible blue band connector system is the world's first and only snap-fit connector and it has eliminated many of the common safety hazards seen with old-style clamped connectors. In fact, it's so much safer, it's become the connector of choice for leading multi-national manufacturers all over the world.
But how exactly do BFM® fittings help enhance your plant's overall safety?
BFM® fittings are safer to replace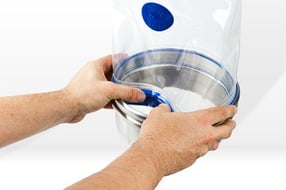 The BFM® fitting has a simple snap-fit installation and removal process where the connector cuff is simply flexed, placed in position inside the BFM® fitting spigot, and then released. The connector seals tight in position and no tools are required for the entire standard connector range.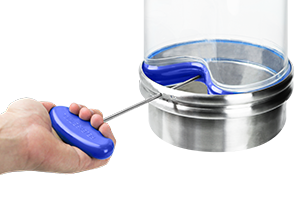 To help protect workers in particularly high-risk locations, BFM® fitting can also provide all their product ranges in an even more secure 'TR' (Tool Release) version (right).
Tool Release connectors have a much firmer flexible 'snap-in' cuff that makes it virtually impossible to remove manually. Instead, a specially shaped tool is used to release the connector by inserting it through a correspondingly shaped hole in the spigot.
The tool can be kept in a secure place to ensure proper removal safety procedures are being followed.


Know when your connectors are removed
If you want peace of mind that no unauthorized access to your system happens while the plant is operating, then BFM®'s Pneumatic Monitoring System is the ideal solution. It is an automatic warning system to protect staff if they remove a connector where there is potential danger.
A sensor detects unexpected changes in pressure between the cuff of the BFM® connector and the spigot, setting off an alarm and/or shutting off any moving parts below. The Pneumatic Monitoring System is available in an IP65 rated version, or a full ATEX-rated version.
Reduced explosion risk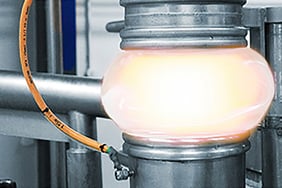 One of the biggest benefits that BFM® fittings provide in any plant is improved hygiene. Once installed, BFM® fitting creates a sealed system which means there is no dust leaking into the factory environment, so it's healthier for your staff, and safer for your entire plant. The reduction in the dust on surfaces outside of your equipment drastically reduces the chance of secondary explosions occurring.
Even if an explosion should occur inside your equipment, the internally sealed BFM® fitting system is designed to contain the explosion within the machinery, and not give-way as old-style clamped connectors can.
Our popular Seeflex range of connectors, for example, have undergone extensive explosion testing and have been proven to contain internal explosions of more than 60kPa (8.7psi). With the addition of a Kevlar Cover fitted on the outside of the Seeflex 040E connector, the system has been tested to contain pressures in excess of 100kPa (14.5psi).
Find out more about how BFM® fittings help make your plant safer.