According to DustEx Research Ltd, a "major" dust explosion is happening somewhere around the world at least every 2.9 days, and smaller (often unreported) ones are at least 10 times more frequent. So despite powder processors being more aware than ever of the risk of combustible dust explosions these days, they are still happening regularly.

Why is dust such a big problem in factories?
Simply put, if there is any sort of explosion inside your equipment, dust sitting on surfaces in the general factory area can become airborne, and all it takes is any form of ignition, like a spark from electrostatic charges, and a potentially devastating secondary explosion can occur.
There is some dust you can see and easily clean up, but dust can accumulate elsewhere slowly, often in places where you don't really think to look for it - on the top of equipment, beams, handrails etc.

Steps can be taken and processes put into practice to help reduce the risks posed by dust build-up in your factory.
Health and safety risks posed by dust in factories should be top of mind for everyone involved in bulk powder handling today. However, it's always good practice to regularly review that you are doing everything you can to eliminate dust as much as possible.
Here are our top 5 must-do dust-reduction checks: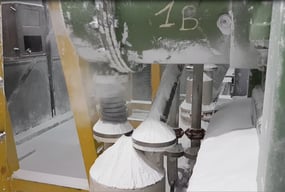 Minimize dust at its source: This is the most obvious and easy to implement. If you are processing any product that is in powder form or will generate dust during its movement through your processes, you need to ensure that it is kept inside the equipment and not allowed to escape into the factory environment. The two most common leakage points are at the loading/unloading of products (such as bulk bags or containers) and any transitions between machinery where a flexible or easily accessible connection is required. Check the type of flexible connectors and bag-loading heads you are using – if they are old-style, clamped versions, dust leakage will be an ongoing risk. Consider replacing them with quality, sealed products that will keep all powder inside your process and have less risk of blowouts or failures.


Practice regular, safe cleaning: Frequent cleaning of your factory environment will prevent dust accumulation, particularly in areas you don't often think about like on top of support beams and handrails. Ensure any vacuums used are designed for industrial dust collection with appropriate filtration and safety certifications. If you handle high-value powders, you could also potentially reclaim valuable powders if you choose a vacuum system with product recovery.


Install appropriate filters and dust collectors: Even if you minimise as much dust production as possible and clean regularly, you should still employ an appropriate air filter/dust collection system to help remove any dust that could still potentially find its way into the factory air. The type of dust collection system you should choose depends on a number of factors, like the nature of the dust, the potential locations of dust generation and your operational run time. Here are 4 tips on choosing the most appropriate dust collection system.


Ensure static electricity is controlled:

C

ombustible dust explosions is one of the most significant plant safety-related risks. These can be caused by sparks from faulty equipment or by static electricity, igniting any airborne dust that might be present in the environment. Grounding all machinery and ensuring appropriate flexible connector materials are used to reduce the risk of static build-up is essential.


Regular equipment monitoring & maintenance: Aside from regular maintenance, have a regular schedule to check for adequate lubrication and standard safety issues. If there are any signs of product leaking through joins in equipment, you need to tend to these immediately to avoid dust being spread throughout the plant. A comprehensive and planned maintenance process not only makes your plant environment safer, but you'll also reduce future unplanned downtime and extend the life of your equipment. Here's a great article about maintenance best practices

.

Choosing quality equipment designed to contain dust inside process machinery is important, but equally, your equipment is only as good as the flexible connectors that join it together.
The BFM® fitting flexible connector system eliminates dust leakage from transitions between machinery, keeping the factory environment much cleaner. The materials in the BFM® product range also help dissipate static electricity to reduce the possibility of arcing inside the process.
And, should an explosion occur, the BFM® fitting system design has been proven to contain explosions in excess of 100kpa (14.5psi), which means you dramatically reduce the risk of a secondary explosion.
Find out more about how BFM® fitting helps keep your plant safer.